News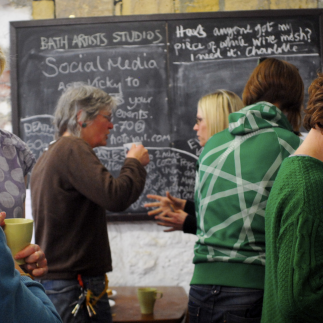 Sign up to our co|Create event in November for person-centred, tailored-training, with online resource available 6-8 weeks prior to workshop to maximise potential and results.
A workshop suitable for artists, creatives and anyone wanting to focus on developing their social and online media capabilities.  Led by social media expert Kyle Hannan from Ecomedia, the focus will be on practical hands-on work. Our aim is that all leave the session with a new, set up customised blog and Twitter account; an understanding of the basics of image-editing, video-making, user-generated content creation and profile-management of the main social media platforms.
Event Details
Date: November 7th 2013
Time: 10am – 1pm
Location: Bath Artist Studios
Cost: £35
Booking essential.
To secure your place please e-mail: mags.maxwell@creativityworks.org.uk
Or get in touch on 01761 438852 and ask Mags to reserve a place for you.
For more information on our co|Create courses click here.