News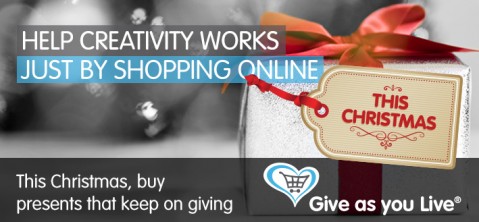 Help raise funds for Creativity Works by shopping online this Christmas through Give as You Live!
Online sales this Christmas season will likely top £17 billion. If all of that money was spent with Give as you Live, that would raise around £650 million for charity
Christmas is a time for celebration, for family and friends and for looking beyond life's worries and stresses. It's a time when we enjoy giving to those we love and we remember those most in need.
With Give as you Live you can do both at the same time. When you buy your Christmas gifts online with Give as you Live installed, the retailers you buy from will donate a percentage of your spending to us. At no extra cost to you.
That would be a good Christmas, wouldn't it?
Join Give as You Live today: www.giveasyoulive.com/join/creativityworks