News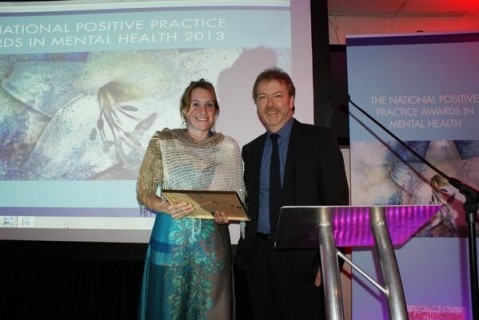 Creativity Works Wins at Breakthrough's National Positive Practice in Mental Health Awards last Thursday.
Creativity Works are delighted to announce that we won in the Mental Health and Criminal Justice Award for our Networks project and were 'Highly Commended' in The Arts, Well-Being and Mental Health Award at The National Breakthrough Positive Practice Awards in Mental Health 2013, which celebrates excellence in mental health.
The ceremony was held in Sheffield last Thursday night, hosted by Angie and Tony Russell from Breakthrough. Blustery, wild conditions unfortunately meant that quite a few people could not attend, including Norman Lamb, The Care Minister, who was to give a keynote speech. It was a great evening, good food and music and a good way to meet other akin organisations and share good practice. Many key national organisations were in attendance including Breakthrough, Time to Change and NHS Trusts.
Creativity Works were shortlisted for two categories at this event: the "Arts in Mental Health and Wellbeing" Award and the "Mental Health in Criminal Justice" Award. Amongst the shortlisted were prestigious Foundation Trusts and exemplary charities, including: Open Arts, South Essex Partnership University NHS Foundation Trust, Arts and Mind Network, Leeds and Forensic Psychological Services, Oxleas NHS Foundation Trust and Hampshire Constabulary.
Creativity Works' nomination for the Mental Health in Criminal Justice Award, beat off strong competition from Hampshire Constabulary and Sova to win the category for our Networks Project. Networks worked with women in the CJS and community settings including:
Teign Ward (a medium secure unit)
HMP Eastwood Park (mother and baby unit)
One25 (women trapped in sex work)
Rethink (women affected by mental health)
Bristol Drugs project
The project sought to improve the wellbeing of women, develop their skills, encourage them to take a more active role in their communities and improve services within the CJS. The women developed a digital tool to create connections between the settings and encouraged women to visit cultural settings including the Arnolfini.
In the The Arts in Mental Health and Wellbeing Award, we were highly commended, runners up to Open Arts. This category recognised the support given to peer-led groups through the Mental Health Creative Support Service. Funded by B&NES Adult Health and Social Care, work with a wide range of partners including St Mungos, AWP and Sirona
It is a tribute to Creativity Works' participants, artists, partners and staff to be celebrated and recognised for their hard work, enabling people to explore, develop and grow through creativity. Creativity Works congratulate their participants for their successes and resilience including, for example, Tiny Monuments Artists Collective, who have taken part in events such as World Mental Health Day, delivered a workshop at Arts & Health South West AGM 2012, exhibited at Bath Literary Festival 2013, facilitated a session and picked up an award at Bristol's high profile Culture Health & Wellbeing International Conference and co-produced the 'What Works' (for mental health) conference 2013.
Karl Bevis, Director of Creativity Works says
"We are delighted to see the work recognized on this important national platform and we commend the work of so many important partner organisations.
Creativity Works would like to thank everyone who has been involved in all of their projects, and it is a pleasure to be part of, and lobby for, the role that the arts, creativity and the imagination play in health. In addition they would very much like to thank Breakthrough and their generous supporters, for providing opportunities such as this annual awards ceremony, which helps the sector share and celebrate their achievements.
For more information on Creativity Works projects please visit www.creativityworks.org.uk
Or contact:
Rosie Dedman
01761 438852
rosie@creativityworks.org.uk
Photo by: Tony Russell www.tonyrussellauthor.com