News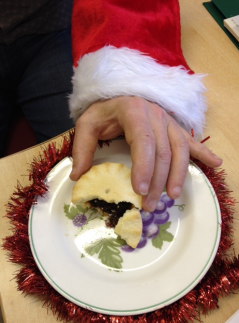 Profile: an insight into working with CW
Job title: Santa Clause: International Wellbeing Volunteer
When did you start working for Creativity Works?
I have been working for them for a number of years now. Originally I was an apprentice, then an employee, then a trustee and now I am a seasonal volunteer. Creativity Works has been around so long I have been with them man and boy. I have also done a lot of admin and office work for them in the past whenever needed, but I mainly now work with them over the busy Christmas period implementing their Wellbeing agenda and squeezing down chimneys.
What is your professional background?
I have worked across the retail, travel and charitable sector all my life really. Coupled with that, I have a keen interest in working with animals. Currently I run an international agency for wellbeing, with a focus on children and young people. I do everything from logistics and accounts to wrapping and delivery. There is a lot of marketing and profile-raising to be done too, although I usually outsource a lot of this to the Voluntary and Parent sectors. I have a BPG (Batchelor of Present Giving) from Bath Spa University, and have recently completed a Masters in Creative Present Purchasing from UWE.
What does a typical day look like for Santa Claus at Creativity Works?
I am rarely in the office as I prefer to work remotely. However, when I am there it could be anything from making the tea and filing to putting in a guest appearance at the Radco Santa's Grotto, or consulting on wellbeing strategies and ideas for new ways of engaging with young people and communities. I also do quite a bit of 'Ho Ho Ho-ing' with the Creativity and the Potting Shed Group out in the garden.
What do you enjoy most about working here?
The people are very friendly and are passionate about wellbeing in their community. I am very artistic as a person, so their ethos of using creativity to change people's lives sits very well with my own philosophy. I like to wear bright colours and dress well and I often use my beard to create pieces of sculptural public art which in turn really inspires all of the artists they work with. Also, they are very dog and reindeer-friendly.
What do you find most challenging?
The travel: I live in Lapland and the journey is not too bad until you get into Bath and then it takes forever!
What has been most surprising during your time so far at Creativity Works?
I am most surprised by the talent of the staff! You wouldn't know for instance, that Rosie, their Admin and Comms Co-ordinator is actually an International Mahjong Champion, Philippa, their Creativity and Wellbeing Manager is a world-record holding three-legged-Marathon runner, Ailsa, their Enterprise Manager is one of the world's greatest trick-Frisbee throwers, and Stuart, their Finance Admin is an ex- lion-tamer. They just seem so normal!
What has been your biggest professional or personal achievement to date?
Professionally I am very proud of making people feel so happy at this time of year and on a personal note I am very proud of losing a few pounds by adhering to the 5:2 fast diet over the last few months! (Five carrots to 2 mince pies.)