News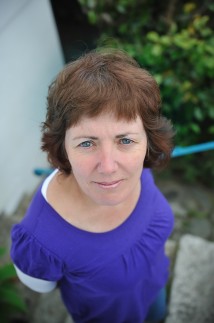 Profile: An insight into working with Creativity Works
Job title: co|Create Programme Manager.
Basically I'm working to provide continuing professional development (training/ networking/ support/ opportunities to learn and experiment) for socially engaged artists and potential socially engaged artists. Phew!
When did you start working for Creativity Works? 
13th of October. Luckily, I like the number 13.
What is your professional background? 
I trained as a journalist in my home country of New Zealand, then worked in radio and print media. When my tolerance for mainstream media wore paper thin, I went to Ghana in West Africa to work as a socially engaged journalist for three years. I then worked, variously, as a campaigner and editor/journalist in the UK for Amnesty International and Save the Children, including spending 6 months in Mozambique as an information officer. Ten years ago I returned to my passion of theatre and retrained, doing an MA in Applied Theatre at Exeter University. I decided instead of sitting watching groups of young people making theatre about important issues, I wanted to be on the workshop floor with them, facilitating the process. In the following few years I worked for: Bournemouth Theatre in Education, Wimborne Community Theatre, and a New Zealand applied theatre company contracted by the health authorities to explore issues around youth suicides over cyberbullying. I also worked for lots of smaller organisations – devising, writing, acting and directing plays that brought debates alive. Since then I went back to physical theatre school at London International School of Performing Arts (including acrobatic sessions at the ripe old age of 47). I've also trained as a teacher, taught cultural context and artform practice at the Arts University Bournemouth, and worked as a theatre producer for Creative Ecology Wiltshire.
What does a typical day look like for Kate at Creativity Works?
That's very hard to say as I've only been here a few weeks. Some days I sit at my computer all day, doing lots of reading, research and wrestling with ideas and trying to plan practical activities. Another day I could be at a workshop or out and about meeting people. I expect I'll be up and about more once I've got courses up and running.
 What do you enjoy most about working here?
Observing artists at work with groups of people, such as the creative gardening group that meet once a week outside my office; or helping out Hannah Carding, a visual artist, working on creative sessions in a nearby residential care home. It makes me feel connected to why I've chosen to do this work. And, really importantly, it makes me feel happy!
What do you find most challenging?
Being completely new to Bath and North East Somerset and trying to navigate my way to unknown destinations in the dark with a dodgy car and in winter! And the fact that I am starting from Ground Zero in terms of local knowledge.
What has been most surprising during your time so far at Creativity Works?
Getting to know a bit of Radstock while walking a colleague's dog in my lunch hour has been an eye opener.
What has been your biggest professional or personal achievement to date?
I guess I would say devising, directing and writing forum theatre pieces for a local authority's children's services that explored real issues (such as why foster children who were exploring their sexuality were unable to get the support or understanding they needed from social workers) through the medium of interactive theatre where the audience try out different interventions to change the story. The performances provoked an outpouring of collective recognition and emotion, and the workshops led to deep discussion and constructive debate about how to learn from past tragedies.