News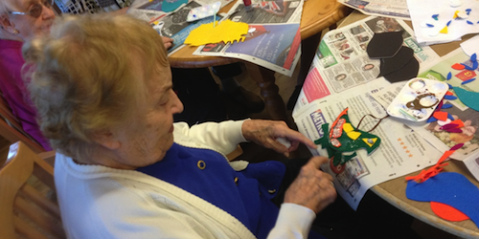 Can you spare a few hours a week to help out our Home Service project bringing quality arts experiences into care homes in the local area?
2 roles available:
1) Volunteer "listener, collector of stories and scribe"
2) Desk based Assistant Project Manager (voluntary).
More Info
1) The volunteer "listener, collector of stories and scribe" will work in residential care homes amassing the stories of residents. This will be through active listening, perhaps using dictaphones where relevant and helping upload quotes and conversations on to digital spaces.
Where and when:
Manor Farm Care Home: Friday afternoons throughout March-April, June-July and Sept-Oct 2.30pm-4pm.
And / or: Stockwood House, Brunel Care, Bristol: Tuesday afternoons as above, times tbc.
2) We are also looking for a desk based Assistant project manager for the Home Service Work. Ideally this would be a long term volunteer until Oct 2015, or even longer and hours/days are flexible and can be discussed. Duties will include helping to organise trips and activities, helping with evaluation and reports, taking part and supporting workshops and events and general administration duties. Ideally 2 ½ days a week or one full day a week.
All volunteers will be trained through a series of co|Create and development days and they will get to take part in an exciting project supported by ACE and the Baring Foundation.
This is a great opportunity to gain experience for your CV or to get involved in a very worthwhile project, making a difference to the lives of others.
If you would like more information about these roles and what is involved, please contact Ailsa for more details: