News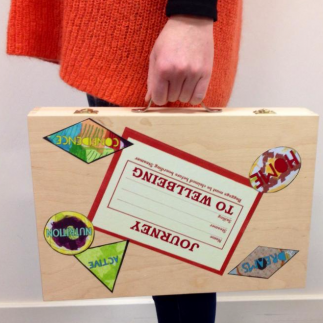 In 2015 the Bath locality community learning disability nurses, the Health Improvement service and artists from Creativity Works asked the healthy living group at the Sirona Carrswood day centre in Twerton, Bath to help them develop a toolkit around improving health.
The aim was to create a toolkit to include a set of conversation starters and resources that could be used by professionals, family and friends to engage people with learning disabilities to think about their own health in a fun and enjoyable way.
Over twelve weekly sessions the Creativity Works artists helped the nurses and members of the healthy living group, learn about different ways to paint and draw to make the toolkit look professional. All of the members had at least one drawing included in the Journey to wellbeing suitcase.
The Journey to Wellbeing Toolkit is designed to be used either in a group setting or one to one. It is hoped that people will feel more comfortable when talking about their health. It then directs you to other easy read information to support each health topic.
"It's really good using so many different materials "H.G Group member
"Really loved the sessions" KR Group member
"I learnt how to use watercolours"SW Group member
Non-verbal client – laughing and signing positive feedback about the sessions P.Q. Group member
"My muscles are better now that I do more activity" H.G Group member