News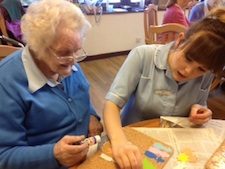 A new 8 week pilot course aimed at Care Workers and students in health and social care interested in Elders work will start on the 31st January at Bath City College as part of the new Care Academy.
Each week will be facilitated by a professional artist in a different art form with the aim to explore, develop and grow your own creativity to use in health and social care settings to benefit others.
This pilot has come about as a result of requests from Care Workers and Creativity Works are running this in partnership with Bath City College Care Academy and Alive!
Dates: Jan 31st, Feb 7th, Feb 21st, Feb 28th, March 7th, March 14th, March 21st, March 28th + Final presentation dates 7 April and 14 April (depending on group size)
Time: 18.00 – 20.00
Venue: City Centre Campus Bath College
This special pilot Course is being run at a reduced rate of £150 per place for the 8 weeks (will normally be £350) There are a limited number of free Bath City College Students places available.
For more information and to book your place please either contact Alisa Eaglestone  by email ailsaeaglestone@zoho.com, call her on 07588524111 or book via our Charity Check out link:
Course Outline
| | | | |
| --- | --- | --- | --- |
| Jan 31st | Ailsa E, Gill Roberts, Sarah Gilmartin | Intro, icebreakers | An introduction to the course aims and objectives.The benefits of creativity for wellbeing.Getting to know one another. |
| 7th Feb | Kerry Russel | The Visual Arts and the 5 Ways to Wellbeing | Explore simple visual arts and the 5 Ways to Wellbeing as a tool to embed creativity in everyday practice. |
| 14th Feb | No session, half term | | |
| 21st Feb | Sarah Gilmartin | Dance and Movement | Explore dance and movement activities and the challenges of physical and mental health on the body. |
| 28th Feb | Barney Heywood | Stand and Stare | Join Barney with the Tangible Memories App to create your own 'story book pages' and the power of objects for sparking memories. |
| 7th March | Hilda Sheehan | Poetry and the spoken word | How can poetry, the spoken word and literature be used to outstanding affect. |
| 14th March | Alive! Gill Roberts | I-Pad technology | Leading arts providers Alive! will lead you on a whistle stop tour of some of the I-Pad activities available |
| 21st March | Wyldwood Arts | Playfulness, drama and games | Have fun playing games and using props to spark conversations |
| 28th March | Ali Brown | The Visual Arts | An illustration of simple visual arts that can be used in the home and how to create safe and creative spaces |
* Plus Final presentation dates 7 April and 14 April (depending on group size)