News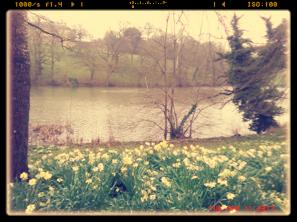 One of the participants in the Beginners Writing group has written a poem (called The Lake). It's a series of haiku working together. We are delighted to share it with you below. We hope you enjoy the poem.
THE LAKE
HOW PEACEFUL IT IS
HOW RELAXING IT CAN BE
HOW HELPFUL IT IS
–
SPRING HAS COME NOW
WITH IT, DUCKS SWIM FAST NOW
WITH THEM, MY LIFE BLOOMS
–
IN THE BEGINNING
THE LAKE WAS MY ONLY HOPE
NOW IT IS MY WORLD
 –
SPRING HAS BROUGHT LIGHT
SPRING HAS BROUGHT COURAGE
I HAVE TO LEAVE  NOW
 –
BUT I WILL COME AGAIN
TO THE LAKE THAT SAVED ME ONCE
THAT HEALED ME WITH PEACE
–
IT WILL ALWAYS BE
ETERNAL IN MY BLACK EYES
IT WILL TRAVEL FAR
–
The beginners writing group is a 10 week course which began in February, for people with no previous experience of creative writing to develop confidence in writing. Aimed at those who are experiencing or in recovery from anxiety, depression and mental health challenges.