News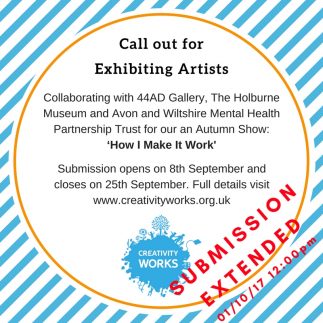 Creativity Works is looking forward to collaborating with 44AD Gallery, The Holburne Museum and Avon and Wiltshire Mental Health Partnership Trust for our an Autumn Show: 'How I Make It Work'
This year's exhibition theme is 'Wellbeing and Mental Health in day-to-day life and the workplace'. We hope to have an exciting variety of paintings, print, photography, 3D artworks and writing on display from south west artists who take part in Creative Perspectives, Fresh Art@, The Gardeners Lodge, Writing Space and Snap and Stroll art groups and other individual artists.
Submission opens on 8th September 2017 and Closes on 01 October (Deadline Extended). Please submit images of your artwork to philippa@creativityworks.org.uk or nat@creativityworks.org.uk
Please include the following details:
· Size in centimetres
· Title of artwork
· Medium used
· Name
· Images under 2MB in size please
If you would like more information about the Exhibition and how to submit please feel free to email either Philippa Forsey or Nat Burgess. Not all art work can be selected and we will let you know by Monday 2nd October 2017 if your artwork has been selected.
If your artwork is selected you will need to drop it to 44AD Gallery on Sunday the 8th between 12:00pm and 16:00pm. Please have your framed artwork ready to hang with cord or wire across the back.
The exhibition will be open from Tuesday 10th – Saturday 14th October 2017 at 44AD, 4 Abbey Street, Bath BA1 1NN