News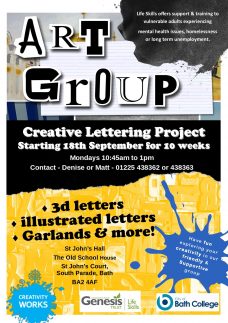 Have fun exploring your creativity in a friendly, supportive group. This project will explore letters of the alphabet in a variety of artforms including collage, illustrations, textiles, 3D and more with artist Caroline Wheeldon.
Even though this project started on the 18th September, there are still some places still available.
When: Starts 18 September for 12 weeks – Mondays 10.45am – 1pm
Where: St. John's Hall, Old School House, St. John's Court, South Parade, Bath.
This project is suitable for anyone experiencing mental health challenges, homelessness or long term unemployment.
To book a place contact Denise or Matt: 01225 438362 or 438363
This is a partnership project between Genesis Trust Lifeskills project, Bath City College and Creativity Works.