News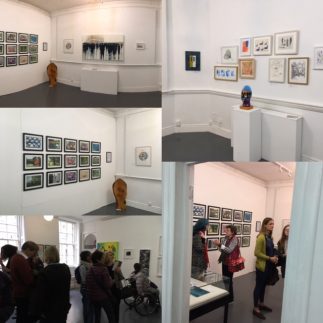 A week long exhibition and creative workshopfest as part of World Mental Health Day
Creativity Works took over the 44AD gallery in Bath for a week in October as part of World Mental Health day. The Exhibition and taster workshops were all inspired by the theme 'How I make it Work' and featured work by an amazing selection of local and international artists.
The taster workshops ranged from Story making with Oliver Langdon of Kilter Theatre, making Batik banners with artist Barbara Disney, writing and art making with author David Davis to Movement with dancer Catherine Brown.
"Realising that it is possible (and vital) 

to incorporate wellbeing activities into daily life."  Movement, meditation and drawing participant.
All the senses were explored and expressed during this week of activities and the opportunity to try out and experiance different ways of making it work gives the chance to be playful and to experiment. Some of the feed back we received really highlighted the benefits even a short creative couple of hours can have – from feeling an increse in confidence and sense of relaxation to feeling less worry or anxiety.
We were also joined by a group from Hearing Action Loss who worked together to created a beautiful banner. All ages and backgrounds came together during this week, and we are alreday looking forward to creating another week of inspirational creative activities for next year's World Mental Health Day.
"Really helped focus where I am in my process, gave me practices I will definitely use!" Moving Stories participant
"Being and talking and sharing joy with other people." Painting and Textiles: Batik, participant
"Imaginative way of shaking things up and looking at familiar spaces in a creative way. Thanks." Making it up as you go along participant