News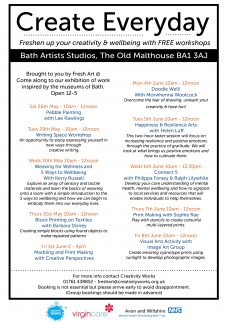 Refresh your creativity and wellbeing!
Free Creative engagement sessions at Bath Artists Studio during FAB 2018
To celebrate arts and wellbeing during Fringe Arts Bath 2018 Creativity Works has teamed up with local artists to offer the Create Everyday series of workshops. These free creative workshops are inspired by the 5 Ways to Wellbeing (Connect, Keep Learning, Be Active, Give and Take Notice). This stimulating programme includes creative writing, printmaking, ceramics, visual arts and Connect 5 training.
Philippa Forsey, Creative Wellbeing Manager at Creativity Works said:
We are proud to be part of Fringe Arts Bath for a fifth year with the Fresh Arts exhibition and look forward to welcoming local people on the free creative workshops every morning of the exhibition.
Sat 26th May
10am-12noon 
Pebble painting with Lee Rawlings
Tues 29th May
10am – 12noon
Writing Space – an opportunity to enjoy creative writing and expressing yourself in new ways
Weds 30th May 
10am – 12noon
Weaving for Wellness and 5 Ways to Wellbeing. Explore an array of sensory and tactile materials and learn the basics of weaving onto a loom with a simple introduction to the 5 ways to wellbeing and how we can begin to embody them into our everyday lives – Kerry Russell
Thurs 31st May
10am – 12noon
Block printing on textiles – creating simple blocks using found objects to make repeated patterns – Barbara Disney
Fri 1st June
2 – 4pm
Marbling and print making with Creative Perspectives art group. (Please note this is an afternoon session)
Mon 4th June 
10am – 12noon
Doodle well! – Overcome the fear of drawing. Unleash your creativity. Have Fun! With Morwhenna Woolcock
Tues 5th June 

10am – 12noon

Happiness / resilience arts – This two-hour taster session will focus on increasing resilience and positive emotions through the practice of gratitude. We will look at what brings us positive emotions and how to cultivate them with Helen Luff

Weds 6th June

10am – 13.30pm

Connect 5 – Develop your core understanding of mental health, mental wellbeing and how to signpost to local services and resources that will enable individuals to help themselves with Philippa Forsey and Ralph Lillywhite

Thurs 7th June 

10am – 12noon

Print making – Play with stencils to create colourful multi-layered prints with Sophie Rae

Fri 8th June

10am – 12noon

Visual Arts activity with IMAGE art group: Create amazing cyanotype prints using sunlight to develop photographic images.
For further details about the workshops contact Tash or Philippa 01761 438852. email: freshart@creativityworks.org.uk. Booking is not essential but please arrive early to avoid disappointment. However group bookings need to contact us in advance.