News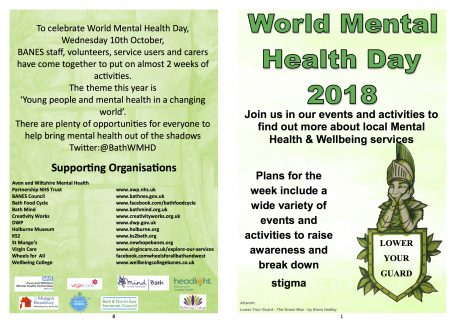 It's World Mental Health Day on Wednesday 10th October and there are lots of events taking place across Bath highlighting ways to support our Mental Health.  The first event will actually kick off this Saturday 06th October so we wanted to send you the details of what's going on. We've attached a link to the full brochure so hopefully there will be something that you'd like to take part in. There are three events in particular that we'd like to flag up:
1. The opportunity to be part of a Flash mob Choir on Saturday 06 Oct in central Bath!
2. A fundraising gig by Wildwood Kin and Littlemen on behalf of Creativity Works on Wednesday 10th Oct 
3. A special event being hosted by Writing Space, one of our peer-led groups] on Friday 12th Oct
Please do share this with anyone you think would also be interested. Thank you!