News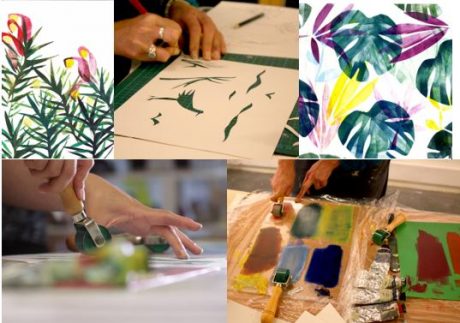 Learn the magic of using stencils and a small roller to create multi-layered monoprints in this relaxed workshop.
Artist Sophie Rae, will show you how to mix vivid printing inks and apply them to paper/card, utilising hand cut stencils to create abstract patterns, marks or simple designs, which can be applied to a number of flat surfaces.
To see examples of the process and work you can make visit: 
www.sophie-rae.com
. This workshop will allow you to play with the materials, which give satisfying, quick results. There is no printing press in sight, so it's easy to do on a small table at home. Suitable for complete beginners.
There will be the opportunity to print festive designs onto cards and gift tags, just in time for Christmas!
Venue:
The School Room at Bath Artist Studios,The Old Malthouse, Comfortable Place,
Upper Bristol Road, Bath BA1 3AJ
Workshop dates: 
Friday 30th November & Friday 7th December – 1.30 – 3.30PM
Cost: FREE