News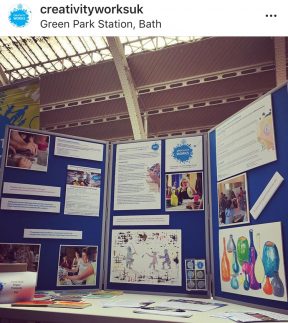 It's nice to get out of the office sometimes, and last Friday myself and my colleague Stacey did just that, manning our stall at Green Park Station as part of Getting to Know Bath day. The event, co-ordinated by Curo, found like-minded organisations who do exceptional work in the third sector, coming together to promote our services to the wider public, and indeed to each other. We were in esteemed company alongside organisations such as Bath Mind, St Mungos, Clean Slate, Goldies, the Adult Learning Service and many more. We already work in partnership with many of these organisations, predominantly through Creative Links, our mental health and wellbeing programme, and it was great to talk to people who were interested in joining one of our peer-support groups or taking part in one of our many creative courses and programmes that we run in the community.
The highlight of the day for me was chatting to a man who had been living with mental health challenges for some time. After speaking for a while about the writing work we do, he produced from his back pocket, five crumpled sheets of poetry and asked me to read it. Words such as 'profound', 'moving', 'raw' and 'illuminating' certainly do not go amiss whilst I was reading his verse. There are times when I sit in the office and can feel removed from the work that we do as an organisation, and there are these times, when meeting people such as this man and sharing time together and especially sharing creativity, make it all worthwhile.
Many of the partners mentioned will be participating in World Mental Health Day this Thursday. The theme this year is suicide prevention. This theme is something very dear to our hearts at Creativity Works, and we hope that you find time to join in some of the many events and interventions that are happening all over this area and further afield.
If you are in Bath, why not join 'Shine A Light', the lantern parade that starts at 6.45pm in front of the Royal Crescent, Victoria Park. Arriving at Bath Abbey at 7.15pm, our very own Philippa will be there with a wishing tree, so please do go down and make a special wish on this important day. There will also be many other things going on such as films, a choir and great food. I'm sure it will be a very special occasion.
Olly
Director, Creativity Works