Artists Area
Hello and welcome to our Artists Area!
We hope this will be a useful and rewarding area for you. The aim is that it will provide interesting and useful resources and information that will inspire you in your work and your socially engaged practice as well as give insights into the Creativity Works ethos.
We will be building this up over time so keep checking back for further developments as it evolves and equally, if you have any burning desires to see certain things up here please do get in touch and let us know or send us items of interest!
Creativity Works has a strong remit to promote talent and excellence in our creative programme.  We depend upon the quality of the artists that we work with and have a commitment to their support and development. We call this area of our work the Co|Create programme and will deliver  through:
Artists professional development
Raising the profile of Socially Engaged Art
Providing artist, participant and support worker courses
Initiating Creative Conversations which support artists knowledge, experience and networking
Developing and signposting to r relevant resources for artists
The Co|Create Programme provides:
Work opportunities for artists
Within our socially engaged creative programme
As part of  The Creative Well – an opportunity for artists to benefit from Creativity Works' reputation and management and delivery skills to increase opportunities to earn through creative delivery in areas such as:

Health and Wellbeing (spot purchased, socially prescribed)
Experiences, Gifts and  sessions to the general public
To Health Professionals, academia and business 
Artists Support and Development
Comprehensive support systems in place to facilitate the delivery of socially engaged arts projects which achieve, health, social, learning and economic outcomes 
Project Management and delivery support, project briefs, contracts and evaluation tools, opportunities to discuss issues with Project Co-ordinators
Opportunity to become part of The Creative Core – an affiliated group of artists who have the skills and experience to deliver Creativity Works' creative programme.  The Creative Core benefits from:
Increased earning opportunities
Management, booking and marketing provided by Creativity Works
Opportunities to help steer the direction of the organisation
Curator in resident spots on the website
Residencies – mutual learning
Champions at events and on media
Our marketing and publicity- new products/designs
Project pitches that we like- we will champion, find funds for, crowd fund for & make happen
Artists Training and professional development
Year Round programme of training and seminars which support socially engaged artists in their practice
Creative Conversations, Speed-Networking Events
Artists Resources
Toolkits
Downloads, information and expertise

Register your interest in joining our pool of Socially Engaged Artists
Read More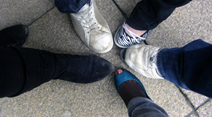 Helpful and inspiring guides, toolkits and links we have come across
Read More